FAITH DX v1.4 - Major Optimization Overhaul
---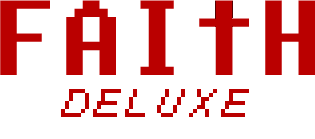 FAITH DELUXE v1.4 has been released! This is a MAJOR OPTIMIZATION UPDATE that will hopefully make the game much easier for players with weaker graphics cards.
Reduced number of sprite texture pages from 115 to 7. Attempting to load 115 images at 2048 x 2048 pixels into memory was likely causing the "white screen" or "stuck at splash screen" issues. Hopefully now even players with crappy useless integrated laptop graphics cards can play FAITH without problems!
Added several quality-of-life features (see Readme for details)
Various crash and bug fixes (see Readme for details).
Thanks for playing! Free and Game Jolt/Indie DB versions coming soon!
Files
FAITH_DELUXE_v1-4_itch.zip
90 MB
Apr 26, 2019
Get FAITH - Itch.io Edition